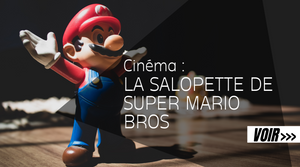 Cinema: Super Mario Bros Overalls
To celebrate the release of "Super Mario Bros: The Movie", at La Salopette® we decided to come back to this emblematic video game character, who marked an entire generation of gamers.
The Super Mario Bros Jumpsuit is blue in color, and is one of the most recognizable elements of the character's universe, which allows him to be identified in all circumstances.
Creation, history and evolution, zoom on the most famous plumber in overalls in the world.
Super Mario: a plumber like no other!
It all started in 1981 , when a character named Jumpman was introduced in the arcade game Donkey Kong .
As its name suggests, Jumpman, translated into French as "the jumping man", is a character – who therefore wears Super Mario Bros overalls – who must avoid the attacks of the evil gorilla in the game.
The success was such that the game's developer, Miyamoto , decided to dedicate a video game to him... The first Super Mario was born in 1985 , available on Nintendo consoles .
Note that Miyamoto wanted to give a "normal" appearance to the character, through a common morphology, a round belly and an imposing nose.
Thus, in the video game, the player embodies Mario the main character of the game, who must cross worlds, free castles to finally be able to deliver his girlfriend , Princess Peach from the clutches of the evil Bowser .
Note that there is another character in the game, who also wears overalls, it is the famous Luigi, who is none other than Mario's brother . In order to distinguish the two characters, the game's creators dressed Luigi in white overalls and a green top . We also find the character with denim overalls (like Mario's), but always with a green top to differentiate him from his brother.
Super Mario Bros Overalls
You should know that in terms of technology and pixels, video games have clearly evolved. Indeed, in the 80's , there was a low graphics resolution , which pushed developers to redouble their efforts and inventiveness in order to create recognizable and unique characters, with restricted colors and pixels.
Considering the situation, the choice of Super Mario Bros overalls was a no-brainer, as it made it possible to distinguish Mario's body from his arms, using only two blocks. This one therefore wears overalls and a cap, a real innovation at the time when superheroes like Batman and Superman wore tight suits and/or a cape.
Evolution of Super Mario Bros Jumpsuit
Gamers know it… Super Mario Bros' first overalls weren't blue, but red ! And conversely, the sweater he wears underneath, was therefore blue.
It was in 1988 that the colors of the Super Mario Bros overalls changed to become the one we know today: blue with yellow buttons and a red sweater underneath .
Super Mario accessories
Like the overalls from Super Mario Bros, other accessories are also unique to the character in the game, such as his red cap and white gloves .
For the record, Mario's famous red cap was supposed to be a haircut. However, as we mentioned above, in terms of pixel, it was not easy to animate hair, given the acrobatics that the character must perform to flee his enemies and complete his missions.
Thus, the blocks that were to do the hair then turned into a red cap, matching the sweater under the Super Mario Bros overalls .
Super Mario Bros Overalls: Cosplay
Of course, as with many other video game and comic book characters, outfits inspired by the costumes of the latter are all the rage with fans. Moreover, there is a specific term for this type of disguise: Cosplay .
Cosplay consists of dressing up to imitate your favorite character, paying attention to all the details that characterize said character.
Thus, fans of Super Mario Bros overalls can take inspiration from the outfit of this mythical character to dress up for a themed party, for example.
To do this, all you need is blue overalls , a red sweater or shirt and, of course, a red cap and white gloves.
Super Mario Bros. The film
Much to the delight of Super Mario fans, a 3D animated film was released recently. Produced jointly by Nintendo and Illumination Entertainment, the film has been in theaters since April 5 .
We obviously find Super Mario and his brother Luigi , but also Princess Peach and the villainous Bowser .
In this animated film, and unlike the game in which he has to save Peach, Mario finds himself in a magical world after having accessed it from a conduit. In this universe, he finds himself separated from his brother Luigi and his quest to find him begins.
The film is a great success with young and old, offering an excellent time with family or friends.
Our models of Super Mario Bros overalls
Are you a fan of the character? Do you want to wear Super Mario Bros overalls and impress your friends? At La Salopette® we have exactly what you need to be in the theme!
1 - Men's Navy Blue Work Overalls
These work overalls, inspired by the Super Mario Bros overalls, are ideal for cosplaying , but not only!
Practical and designed with ultra-resistant materials , these men's dungarees help you in carrying out your manual work and/or DIY sessions.
It has many pockets specially designed for placing tools, such as a screwdriver or pliers.
In addition, its wide cut adapts to all body types , so that you are comfortable in your movements.
2 - Jean Overalls from Atelier Ikebana
Just because the Super Mario Bros overalls are worn by a mustachioed plumber doesn't mean that a woman fan of the character can't wear it as she pleases!
Whether it's to accessorize with a red sweater and cap or for everyday wear, these women's denim dungarees are perfect for manual work. In addition, its loose fit and numerous pockets make it even more practical.
Classic and timeless, blue denim overalls are very easy to wear every day, whatever your figure .
3 - Classic Blue Work Overalls
Like the first, these Super Mario Bros overalls are also ideal for dressing up at a Cosplay party.
Made in a 100% cotton fabric, it will meet your expectations on many aspects: practical , comfortable and durable .
In addition, these straight-cut men's overalls have several pockets and adjustable buckle straps, giving you the most stylish look.
4 - The White Plumber Work Overalls
At La Salopette® , Luigi fans are not left out… Quite the contrary!
Indeed, these white dungarees with multiple pockets are super practical for carrying out work, whether indoors or outdoors. It is made of high quality denim cotton , ensuring you maximum comfort and durability.
So, even if you want to stand out and not wear Super Mario Bros overalls, Luigi's overalls will make you stand out for sure!
---