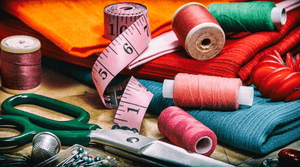 The Dungarees Size Guide
The easiest and quickest solution to know the size of your overalls is to refer to your size of your pants (jeans, shorts, dress, jogging, ...). The bib will match your figure thanks to the adjustable straps, so it is important to know its size. If you want to have overalls that are perfectly adjusted to your measurements, then we have prepared a table for you indicating all the correspondences between sizes and measurements.
1 - Men's Dungarees Size Guide
2 - Women's Dungarees Size Guide
The essential measurements you need to get the perfect fitting overalls are:
Chest :
Measure just under the arms across the shoulder blades keeping the tape firmly and level. If your chest measurement is between two sizes, choose the larger size.

Size :
Stand up straight with your feet together and measure around your natural waist , ie halfway between the last bone of your ribs and the bone of your hips, keeping the tape measure horizontal. For a casual look and great freedom of movement, add a few centimeters otherwise take the precise measurement for a slimfit cut.
Inseam:
Measure your favorite pants. Lay it flat so you can easily calculate the length. Measure the length from the inseam to the base of the leg hem . Or, you can also measure directly on your legs by taking the measurement from the crotch to the desired trouser length.


Overalls are usually worn over other clothes, so getting the right size can be tricky. Follow our fitting advice to be sure to have the perfect fit for you! Here are 5 tips that will help you make your choice.

Tip #1 - Standard dungarees measurements assume you're wearing them over other clothes, so be sure to choose the larger size if you're between measurements.

Tip #2 - Measure the widest part of your chest keeping the tape measure horizontal.

Tip #3 - Measure around the widest part of your waist and add about 5cm for comfort.

Tip #4 - If your waist circumference is larger than your chest circumference, choose your overalls in relation to your waist circumference.

Tip #5 - Add a few inches to your waistline to leave enough room for another layer of clothing under your overalls.


4 - Overalls over time
This charismatic and authentic garment has evolved enormously since its created in 1854 by A. Lafond in the Lyon region, it is therefore a French clothing . Mainly designed for the comfort of workers, these work overalls were designed to have a wide casual fit synonymous with comfort . Since fashion has changed the vision that people may have had of overalls and it has been able to adapt with more modern designs, making the models of these overalls evolve towards skinny, slim cuts. And even extra-large for play on different trends. The overalls, in addition to its popularity which has spanned the years and forged its reputation, are no more and no less than trousers with a bib , used by workers to wipe their hands while working as kids do it on their bibs too.
With all its evolutions, especially in terms of cuts, one can hesitate on the size that should be chosen to proudly wear this garment steeped in history. In this article we explain everything you need to know to choose the Dungarees made for you.
---
8 comments