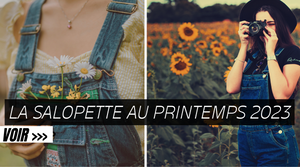 The Overalls in Spring 2023
Spring is upon us, and even if the temperatures are not yet ideal for the season, the flowering, the sun and the good weather will not be long in coming!
To get this season off to a good start, what could be better than light overalls to feel good about yourself!
At La Salopette® , we have selected several models for you to wear dungarees in spring 2023: denim dungarees , dress dungarees , oversized baggy dungarees or even cotton dungarees .
Let's take a closer look!
Jumpsuit trends for Spring 2023
4 seasons = 4 times more dungarees models!
For the spring-summer 2023 season , overalls are still a staple in the wardrobes of fashionistas around the world.
This practical, trendy and timeless garment is suitable for all ages and all sexes . Indeed, despite the fact that the overalls were created mainly for work, they have become over time one of the clothes that can be found in all wardrobes, and for good reason!
Easy to put on and suitable for all body types , the dungarees are available in many models , patterns and materials .
Trendy colors and patterns
The 2000s-inspired look has been on the catwalks lately. There are bright colors such as magenta pink, electric blue, bright red or lime green. Floral patterns and stripes are of course always relevant, whether in printed fabric or in accessories.
So, to be on top of fashion trends, you can opt for pink denim overalls , ideal for combining the style and color of the moment.
The most popular materials for Overalls in Spring 2023
Spring 2023 overalls are not made from a single specific material. First of all, we can mention the fact that the total denim look is ultra trendy at the moment… You also have leather and transparent materials which will be in the spotlight this season.
As a result, you can choose to wear classic denim overalls , or choose a total black look and accessorize your outfit with leather.
The fashionable styles and cuts of a Overalls in Spring 2023
The ultra-trendy cut for overalls in spring 2023 is undoubtedly cargo . This type of pants is distinguished by a wide and fitted cut at the same time, with large side pockets, which give it an urban style.
If you want to wear cargo dungarees for the spring-summer season, different models for men and women are available on our La Salopette® online store.
How to wear Dungarees in Spring 2023?
Urban look : a mini leather backpack or a banana bag to wear over the shoulder, a hoodie would also be ideal;
Glam-chic look : small handbag that can hold the bare minimum of business and platform shoes;
BCBG look : opt for a gold touch, a small belt with a golden buckle that will mark the waist and 2000 style hoop earrings;
Boho look : flowers are the best accessory for a bohemian chic style. A small floral crown and a mesh bag would be perfect with overalls in spring 2023.
How to wear overalls according to your morphology?
Each body is unique, of course… But the types of morphologies that exist help us to choose the clothes we wear, so that we are comfortable and stylish.
To wear dungarees in the spring of 2023, all you have to do is choose the right model, which will best suit your body type .
If your hips are the same width as your shoulders , don't hesitate to mark your waist by adding a belt to your overalls. If you tend to have more shoulders than hips , oversized dungarees would be ideal.
Nevertheless, whatever your morphology, the idea is that you are comfortable and well in your push-ups. You can rely on the size guide to make sure you get the right dungarees, whether for you or as a gift!
Our selection to wear the Dungarees in Spring 2023
Time for serious things!
Do you want to buy overalls for spring 2023? Are you hesitating between the many models available on the market? Let us help you find THE dungarees that will make you happy.
Denim Overalls with Butterfly Embroidery
Ideal for fashionistas, these two-tone overalls are perfect for the spring season. Light and comfortable, it is very easy to wear when it is hot, with a small linen shirt and espadrilles.
Made of recycled cotton , these dungarees are suitable for all occasions, whatever your body type.
If you want to go for a total denim look, opt for these dungarees in spring 2023 and be sure to be ultra trendy!
Patterned Long Denim Overalls
If you like Japanese style and culture , these spring 2023 dungarees will be ideal for a most original outfit!
Indeed, these loose denim dungarees feature very beautiful artistic patterns that give it a bohemian chic touch. It is a fashion accessory on its own, which you can of course enhance with a small brightly colored top and small platform shoes , to stay in the theme of Japan.
La Salopette® : the best reference for ordering overalls online
To conclude this fashion chapter, let us remind you that on La Salopette® all our models are available online, with home delivery and secure payment .
Take advantage of the most beautiful dungarees models in spring 2023 and be on top of fashion trends, whatever your style.
Stay connected and take advantage of the fashion advice of our experts on our blog the jumpsuit .
---