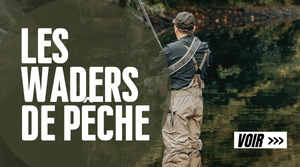 Fishing Waders
Fishing enthusiast? You are looking for Chez La Salopette® we've brought you the very best in fishing and hunting waders!
A fishing wader is a waterproof and waterproof suit or overalls that allows fishermen to stay dry during their fishing trips, such as: Breathable Waders, Neoprene Waders or Hunting Waders.
In this article, we invite you to discover some of the best models of Fishing Waders and Hunting Waders.
A Fishing Waders: what is it?
First, you should know that the term " waders " literally translates to waders . They are therefore fishermen's boots that go up to the thighs, allowing you to easily enter the water, without getting wet.
Thus, the waders are therefore a kind of extension of the waders which go up to the torso, generally being equipped with adjustable straps in order to keep it in place.
Thanks to the fishing waders, you will be able to practice your activity while being dry, but also and above all, free of your movements.
In addition, this type of clothing is ideal for shore fishing or fly fishing in leisure mode, which requires being in the water, or for professional fishermen on board a boat.
Why and how to choose a Fishing Waders?
As we mentioned before, the fishing waders allow you to be dry while fishing. However, the latter offers many more advantages, including:
Easily access the most difficult to reach fishing areas , such as streams, rivers and lakes;
Move freely in the water and change position quickly without being hindered by heavy, wet clothing;
Benefit from good protection against natural elements such as wind and rain;
Store your fishing tools such as lures and bait thanks to the numerous pockets and various attachments of the waders.
The different types of Fishing Waders
Of course, just as there are many different kinds of fishing techniques, there are also several different types of fishing waders to suit each technique.
Let's take a closer look!
Fishing Waders
As the name suggests, this one is specially designed to give you maximum comfort and protection when fishing.
Practical and comfortable, the fishing waders are made with a waterproof fabric for optimal protection.
Hunting Waders
Like the previous one, this one is aimed at hunting enthusiasts and is usually designed with fabric sporting a camouflage pattern.
Ideal for hunting in the forest, hunting waders offer a lot of comfort to be comfortable in your movements and to move discreetly .
Breathable Waders
Light and useful in all circumstances, the breathable waders are made with a special fabric that allows moisture to escape from the waders, while preventing water from entering.
This type of wader offers a lot of comfort and is extremely light which makes it easier to move through the water .
Neoprene Waders
Neoprene is a type of ultra-resistant synthetic rubber that is used in the manufacture of various garments, including wetsuits .
Thus, the neoprene waders not only allow you to protect yourself against water infiltration, but also to keep you warm in cold waters, in order to fish in peace.
Our models of fishing waders
At La Salopette ® , we have brought you a wide choice of waders for men and waders for women , which adapt to all body types and different situations.
Fishing Waders Overalls
This fishing wader for men is both waterproof and lightweight to offer you maximum comfort during your fly fishing trips. Ideal in all seasons, these men's waders have straps and an adjustable belt, allowing them to adapt to all body types.
It is made of polyester canvas and layers of neoprene to protect you as much as possible, regardless of the water temperature or the surrounding climate.
So, with these 100% waterproof fishing wader overalls , you can be sure to have the right equipment for fishing enthusiasts!
Breathable Waders Dungarees
With its breathable fabric made up of thousands of small microscopic pores that allow moisture to escape, these breathable waders are the ideal men's overalls for fishing trips.
It has a large pocket at the level of the bib with various storage spaces, perfect for slipping in lures and hooks. Therefore, if you have to be in the water, there is no need to return to the camp or on the boat to collect more!
Like the previous model, this breathable waders overall is lightweight and not bulky, giving you maximum comfort and freedom of movement.
The Waders Hunting Overalls
Among our wader models, we have also thought of budding hunters. Indeed, these hunting waders with camouflage pattern are perfect for a hunting party in the forest.
It has adjustable straps and a belt with strap at the waist, allowing it to be adjusted for optimal comfort. In addition, these hunting waders overalls are 100% waterproof and are made of polyester and neoprene, allowing you to protect yourself against the cold and the rain.
Thus, with this hunting waders, you will be able to enjoy your hunting party and move around discreetly .
The Waders Salopette in professional Neoprene
Make no mistake! Even if this model has characteristics that adapt to professionals, these neoprene waders are perfect for amateur hunting parties.
Breathable, waterproof and ultra-lightweight, these cyan blue neoprene waders have superimposed pockets at the bib, giving you maximum freedom of movement !
Plus, this men's neoprene waders bib overalls feature 3-layer knee pads and stretchy neoprene booties for optimal protection in all temperatures.
The Earth and Water Waders Dungarees
Whether you hunt in fresh water or at sea, these land and water waders are perfect for staying warm and dry in all circumstances.
These waders for men have 4 waterproof layers, a bib with pockets, a waistband and adjustable suspenders. It is ideal for trap fishing or even freshwater fishing near a forest.
Note that despite all its reinforcements, these fishing waders remain light to wear and in no way restrict your movements.
Why order your Fishing Waders on La Salopette® ?
La Salopette ® offers you a large choice of overalls and fishing waders . Accessible in a few clicks, all our models are of high quality and meet the strictest standards.
We guarantee you:
Top quality models;
Secure payment for all your transactions;
Free delivery .
At La Salopette, we make sure that all our customers can benefit from 100% satisfaction … This is why we offer you a 14-day cooling-off period as well as a possible simple and quick return.
Our advice: make sure that the model chosen meets your needs and do not hesitate to rely on our Size Guide to choose the fishing waders you need.
---